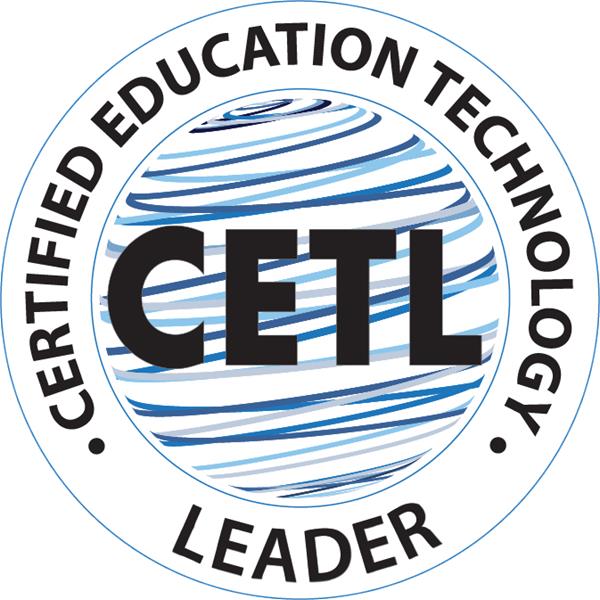 For K-12 education technology leaders, earning the CETL® certification will demonstrate to your staff, superintendent, and other stakeholders that you have mastered the knowledge and skills needed to define the vision for and successfully build 21st century learning environments in your school district.
If you are interested in taking the CETL® exam, please fill out our contact form. The CETL® exam and professional development is no additional cost to IETL members. * Click here for details.
View the national Directory of Certified Education Technology Leaders
Learn about the value of CETL®, Superintendents and EdTech Leaders
Look below to view all the Illinois CETL® qualified CTOs you can talk to.
59 – IETL CETL® Members and Non Members
Jacob Aguinaga
CETL® Certification Status:
Certified
Institution Name:
Central Community Unit School District 301
Michael Arensdorff
CETL® Certification Status:
Certified
Institution Name:
Oak Park Elementary School District 97
John Armstrong
CETL® Certification Status:
Certified
Institution Name:
Joliet Public Schools District 86
Jim Batson
CETL® Certification Status:
Certified
Institution Name:
Fenton Community High School District 100
Nancy Battaglia
CETL® Certification Status:
Certified
Institution Name:
Archdiocese of Chicago
Ben Bayle
CETL® Certification Status:
Certified
Institution Name:
DeKalb Community Unit School District 428
Farheen Beg
CETL® Certification Status:
Certified
Institution Name:
Butler School District 53
Keith Bockwoldt
CETL® Certification Status:
Certified
Institution Name:
Hinsdale Township High School District 86
Chris Budzynski
CETL® Certification Status:
Certified
Institution Name:
Huntley Community School District 158
James Bunn
CETL® Certification Status:
Certified
Institution Name:
North Palos School District 117
Patrick Christl
CETL® Certification Status:
Certified
Institution Name:
Pennoyer School District 79
Colleen Davoren
CETL® Certification Status:
Certified
Institution Name:
Community High School District 99
Tony Dotts
CETL® Certification Status:
Certified
Institution Name:
Community High School District 99
Matthew Dusterhoft
CETL® Certification Status:
Certified
Institution Name:
Lockport Township High School District 205
Kate Fahey
CETL® Certification Status:
Certified
Institution Name:
Lockport Township High School District 205
Paul Fajks
CETL® Certification Status:
Certified
Institution Name:
Township High School District 214
Mark Fijor
CETL® Certification Status:
Certified
Institution Name:
Mount Prospect School District 57
Mike Frantini
CETL® Certification Status:
Certified
Institution Name:
Wheeling Community Consolidated School District 21
Rudy Gomez
CETL® Certification Status:
Certified
Institution Name:
Elmhurst Community Unit School District 205
Erich Grauke
CETL® Certification Status:
Certified
Institution Name:
Illinois State Board of Education
Karen Harkin
CETL® Certification Status:
Certified
Trevor Hope
CETL® Certification Status:
Certified
Institution Name:
Northbrook School District 27
Anton Inglese
CETL® Certification Status:
Certified
Institution Name:
Batavia Public School District 101
Christopher Karl
CETL® Certification Status:
Certified
Institution Name:
Township High School District 214
Ronald Kasbohm
CETL® Certification Status:
Certified
Institution Name:
Township High School District 113
Kevin Kolcz
CETL® Certification Status:
Certified
Institution Name:
Township High School District 214
Myra Lolkema
CETL® Certification Status:
Certified
Institution Name:
South Holland School District 150
Rodney Mack
CETL® Certification Status:
Certified
Institution Name:
Indian Prairie School District 204
Michael Marassa
CETL® Certification Status:
Certified
Institution Name:
New Trier Township High School District 203
Matt McCarthy
CETL® Certification Status:
Certified
Institution Name:
Central Community Unit School District 301
Tim McIlvain
CETL® Certification Status:
Certified
Institution Name:
Illinois Learning Technology Centers
Maureen Miller
CETL® Certification Status:
Certified
Institution Name:
Oak Park and River Forest High School District 200
Tony Pajakowski
CETL® Certification Status:
Certified
Institution Name:
Non CoSN and IETL Member
Anne Pasco
CETL® Certification Status:
Certified
Institution Name:
Community Unit School District 300
Richard Pattison
CETL® Certification Status:
Certified
Institution Name:
Non CoSN and IETL Member
Andrew Peterman
CETL® Certification Status:
Certified
Institution Name:
Glen Ellyn School District 41
John Petzke
CETL® Certification Status:
Certified
Institution Name:
North Shore School District 112
Mike Pinney
CETL® Certification Status:
Certified
Institution Name:
Non CoSN and IETL Member
John Reichling
CETL® Certification Status:
Certified
Institution Name:
Non CoSN and IETL Member
Anthony Reiskis
CETL® Certification Status:
Certified
Institution Name:
Maine Township High School District 207
Don Ringelestein
CETL® Certification Status:
Certified
Institution Name:
Maine Township High School District 207
Rod Russeau
CETL® Certification Status:
Certified
Institution Name:
Community High School District 99
Margaret Ryan
CETL® Certification Status:
Certified
Institution Name:
Non CoSN and IETL Member
Anthony Schlorff
CETL® Certification Status:
Certified
Institution Name:
Township High School District 214
Don Seawall
CETL® Certification Status:
Certified
Institution Name:
Batavia Public School District 101
Brian Skibinski
CETL® Certification Status:
Certified
Institution Name:
Forest Ridge School District 142
Adam Smeets
CETL® Certification Status:
Certified
Institution Name:
Non CoSN and IETL Member
David Smith
CETL® Certification Status:
Certified
Institution Name:
Elmhurst Community Unit School District 205
Matt Smith
CETL® Certification Status:
Certified
Institution Name:
St. Charles Community Unit School District 303
John Sonnenberg
CETL® Certification Status:
Certified
Institution Name:
Non CoSN and IETL Member
Aaron Souza
CETL® Certification Status:
Certified
Institution Name:
Minooka Community Consolidated School District 201
Crystal Steker
CETL® Certification Status:
Certified
Institution Name:
Non CoSN and IETL Member
Dennis Stellern
CETL® Certification Status:
Certified
Institution Name:
Oak Lawn Hometown School District 123
Donna Strollo
CETL® Certification Status:
Certified
Institution Name:
Non CoSN and IETL Member
Jim Struck
CETL® Certification Status:
Certified
Institution Name:
Community High School District 99
Joe Taylor
CETL® Certification Status:
Certified
Institution Name:
Township High School District 113
Kara Thorstenson
CETL® Certification Status:
Certified
Institution Name:
Chicago Public Schools
Brian Tobin
CETL® Certification Status:
Certified
Institution Name:
Central Community Unit School District 301
Jeff Turley
CETL® Certification Status:
Certified
Institution Name:
Lockport Township High School District 205
Mary Jane Warden
CETL® Certification Status:
Certified
Institution Name:
Park Ridge-Niles District 64
Chris Wherley
CETL® Certification Status:
Certified
Institution Name:
Illinois Learning Technology Centers
Andy White
CETL® Certification Status:
Certified
Institution Name:
New Lenox School District 122